USAID's Inclusive Education Work for Children with Disabilities
USAID and The Global Reading Network hosted a webinar on June 7, 2017, on inclusive education, focused on supporting children with disabilities in reading.
The webinar began with a presentation by USAID's Disability Inclusive Education Specialist, Joshua Josa. Josa explained that USAID seeks to establish reading programs through quality, equity, and sustainability. He stated that there are 150 million children with disabilities and less than 3% of these children attend school. Also, around 80% of the 150 million children with disabilities live in developing countries. Josa specified three goals that USAID works towards with their education policies: early grade reading, education in crisis and conflict zones, and disability inclusive education.
USAID policies surrounding the disability inclusive education goal include the broader USAID 1997 Disability Policy – AAPD 04-17 and AAPD 05-07 and the 2016 Non-Discrimination Policy. The 1997 Disability Policy "articulates the U.S. Agency for International Development's (USAID) commitment to pursue advocacy for, outreach to, and inclusion of people with physical and mental disabilities, to the maximum extent feasible, in the design and implementation of USAID programming, and provides guidance for making that commitment operational. The policy applies to the use of Agency program funds only and complements USAID's personnel and staffing disability policies." The Acquisition and Assistance Policy Directives (AAPDs) incorporated disability policy into contracts, grants, and cooperative agreements.
Josa explained that instead of requiring that children with disabilities change to attend school, the teacher, activities, and physical aspects of the classroom need to change to accommodate disabled children.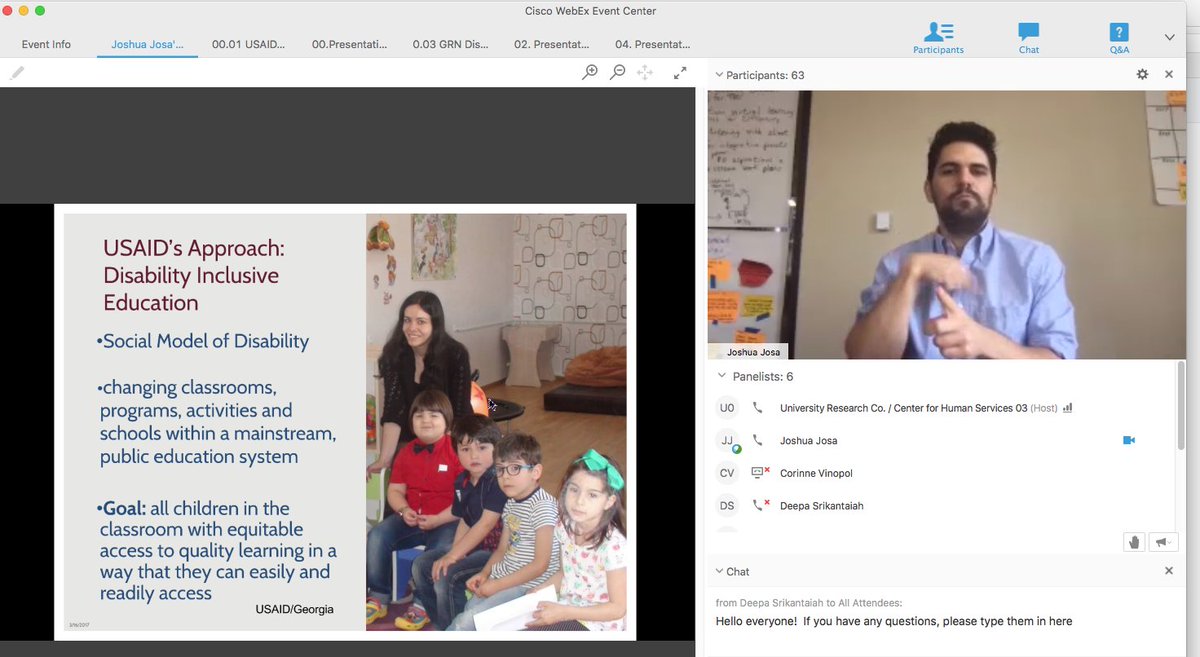 In 2011, "All Children Reading: Grand Challenge for Development" was launched, which is a competition series using science and technology to improve literacy skills for early grade learners in developing countries. This program has funded 12 projects across 10 countries, including Dr. Corinne Vinopol and Dr. Kristina Solum's initiatives in Morocco for hard of hearing/deaf children, co-funded by USAID, the Australian Government and World Vision. Beginning in 2015, this initiative began supporting Dr. Corinne Vinopol's organization, Institute for Disabilities Research and Training, Inc. (IDRT).
Dr. Vinopol explained in the webinar that IDRT is a small female owned business that works to create technologies to help deaf individuals. She elaborated on the issues with schooling for deaf children in Morocco and her company's work to assist the development of Morocco's inclusive education. Due to a combination of factors, 85% of deaf children in Morocco do not attend school; a large contributor is that there are few to no sign language interpreters in schools and Moroccan sign language is not a spoken or written tool, so it must be shown with graphics or video. In partnership with USAID, IDRT incorporates technologies into Moroccan schools to ensure deaf children are properly accommodated and able to learn.
USAID also supports Dr. Kristina Solum's School to School International initiative in Morocco. Nicholas Hoekstra, from the World Intellectual Property Organization, provided reflection as the discussant, and Deepa Srikantaiah of The Global Reading Network moderated the webinar.
When asked the next steps for USAID's future inclusive education work, Josa explained that USAID has now developed inclusive education training and guidance notes for education officers around the globe. Pilots are underway in specific countries that will help identify which inclusive education models work best in different settings. New challenges will likely provide additional funding for reading and literacy focused inclusive education projects. Josa encouraged USAID partners to propose initiatives for future challenges that engage learners with all types of disabilities.
[image from USAID]